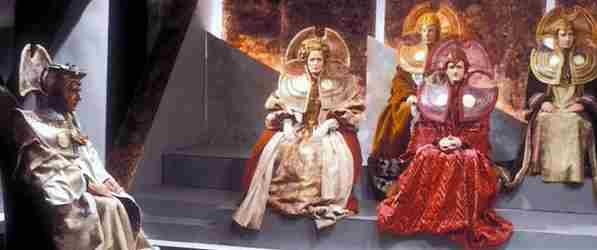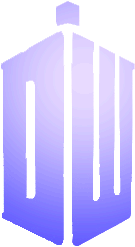 THE INNER COUNCIL
The Inner Council is made up of the

High Offices of Gallifrey, that is

Lord President, the Chancellor (Vice-President) and the

High

Lord

Cardinals.
Together, these most senior Time Lords of the Inner Council
represent the most powerful of the Great Houses of Gallifrey.

In most cases, members of the Inner Council are between 6,000 and 10,000 years old.

Traditionally there are only 5 members of the Inner Council, but, throughout Gallifrey's History the number has ranged from 3 to 7. In modern era the Castellan

(if a Time Lord)

is often included on the Council.
Despite the various elections and appointments, the Houses represented on the Inner Council rarely change. And it is very rare for any Newblood House to be represented on the Council.

Normally the Inner Council meets in the

Great

Hall
of Time
where one of the Matrix Portals is mounted in it.
But nested into one of the alcoves in the Presidential Palace is a
the Inner Council Room which was intended

to be a private area

for the President to meet with the rest of the Inner Council

in secret. Like the Great Hall of Time, this room has a
Matrix Portal mounted above the debating table.
This room is only used about once every thousand years and serves as a storage for lesser know artifacts of Rassilon.

The Inner Council interacts directly with the Head of the Presidency,

and carries his orders to the rest of the Time Lords.

During Emergency Sessions, the Inner Council can override the President's authority with a unanimous vote,

for example, Chapter 14, paragraph 6 of the Constitution states - If the president is emotionally compromised by diplomatic circumstances, the Inner Council can vote in favor of military action without his or her final approval.